Coming Soon: New locations launching at Kona & Hilo airports this summer!
7 Reasons To Hold A Conference In Hawaiʻi (And Where To Stay!)
Published on - 2023-01-03
Compared to perennial gathering places like Orlando, Las Vegas, and Washington, DC, Hawaiʻi is not a popular location for holding business conferences. But there are plenty of reasons that make Hawaiʻi one of the best places for companies to come together for exchanging industry insights and networking.
With a breathtaking natural landscape, plenty of outdoor recreational opportunities, and luxurious high-end hotels, Hawaiʻi offers a unique and memorable experience to all its visitors regardless of whether they come for business or pleasure.
Here are seven reasons to hold a conference in Hawaiʻi and the best business hotels to host you.
1. The Perfect Balance Between Work and Play
Hawaiʻi strikes a flawless balance between work and leisure as both a cultural hub and ocean paradise. Discuss groundbreaking ideas at one of the world's premier hotels, then spend the evening strolling iconic Waikiki Beach.
With daytime temperatures around 80°F all year round, Hawaiʻi has wonderfully moderate weather and plenty of sunshine. The island's rich cultural heritage and sensory experiences also help inspire creativity. Arrange a night out at a luau or visit one of the many parks and gardens. A conference in Hawaiʻi might just offer you the spark you need to take your business to the next level.
2. Incentivize Employees to Improve Performance
If you want to motivate your employees, give them a trip to Hawaiʻi to look forward to. When employees feel valued, it translates to better long-term ROI for your company as it helps in improving employee retention and loyalty.
In fact, incentive travel statistics show that businesses that provide incentive travel see an increase of up to 3X in their revenue and that 43% of companies use incentive travel to recognize employees' efforts.
A conference in Hawaiʻi, where your employees can have fun after work and stay at a fancy business hotel, is a fine way to recognize their merits and encourage them to keep doing their best. Besides, it's simply a method of ensuring the well-being of your employees and showing them that you care.
3. Enriching Experiences After Work Hours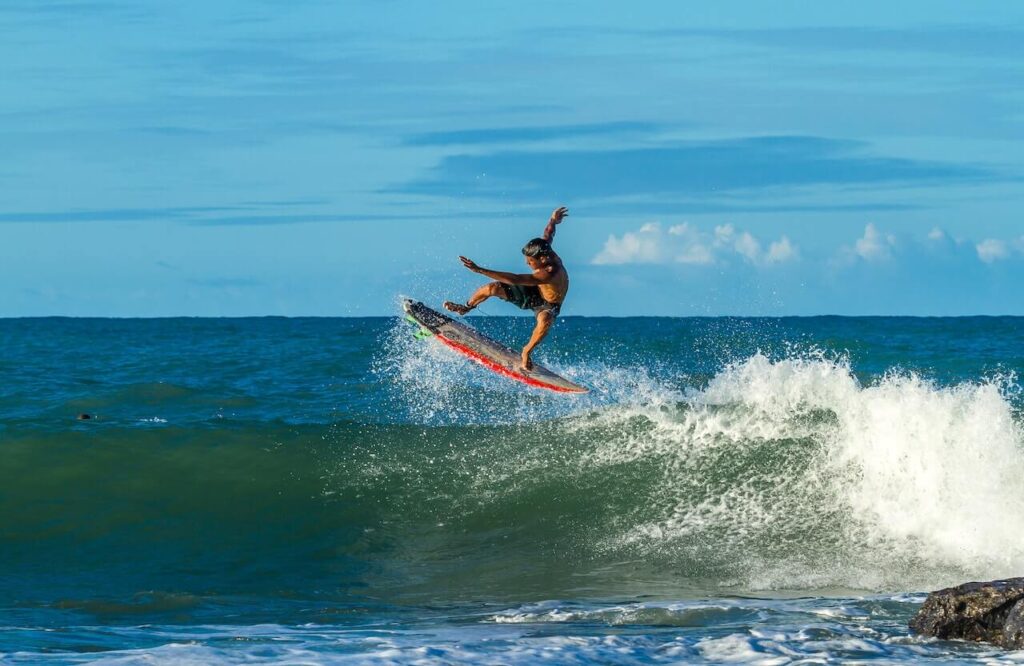 Hawaiʻi isn't one of the most sought-after travel destinations for no reason. With turquoise blue waters, white sand beaches, swaying palm trees, and rugged terrain dominated by tropical wilderness, Hawaiʻi is nothing short of paradise.
This means that there are plenty of opportunities for fun after you're done with your conference in Hawaiʻi. Honolulu especially is a vibrant scene of shopping, restaurants, nightlife, and cultural experiences, and it's all relatively close together. Your conference guests will enjoy their free time after a full day of productivity.
4. Best Location for International Conferences
Another reason to hold a conference in Hawaiʻi is its location, perfectly situated between Asia, Oceania, and North America. It's easily accessible and helps cut down travel times for international participants—making it easier to connect with coworkers from Australia, China, Japan, Korea, or elsewhere.
Hawaiʻi itself is multicultural and multilingual, and most people are hospitable in nature and cordial toward visitors. It can be hard to choose an international location that makes everyone in your company feel comfortable, but Hawaiʻi's locations and hotels are truly ideal for business travelers from all over the world.
5. Team Bonding Opportunities
Sharing memorable experiences together brings people closer and builds a sense of trust. Hawaiʻi's numerous opportunities for outdoor exploration activities like hiking, snorkeling, scuba diving, and more make it an ideal place to hold some unique team-building exercises.
So after you're done with your conference in Hawaiʻi, you can spend a day golfing or on a group hike up Diamond Head Crater. Building a sense of community and camaraderie will increase efficiency when you return. For those traveling to the conference from afar, an exciting team bonding session offers further incentive to attend the conference—giving you a successful event.
6. Dedicated Space for Holding Conventions
The Hawaii Convention Center is a 1.1 million-square-foot behemoth built by the Hawaii Tourism Authority, and it's perfect for business conferences.
It's located strategically in Honolulu—just 8 miles from Daniel K. Inouye International Airport. This means it's close to the main shopping district as well as the string of luxurious hotels across Waikiki Beach. The Center has modern facilities including catering services and exceptionally helpful staff to help you manage your meetup without any hiccups.
7. Luxurious Accommodations
Another big reason to hold a conference in Hawaiʻi is its high-end hotels. Hawaiʻi, being a popular tourist destination, is home to some of the world's finest resorts and spas.
Whether you want luxury accommodations close to the busy Waikiki district or a less crowded private resort in Maui, there are endless choices.
Many business hotels in Hawaiʻi house business centers with workstations as well as multiple large ballrooms and other indoor and outdoor venues where you can hold your conference or other business events. Some even have their own golfing courses and private beaches.
Now that you know why you should pick Hawaiʻi for a conference, here are some of the top hotels on Oahu and the Big Island.
Best Business Hotels on Oahu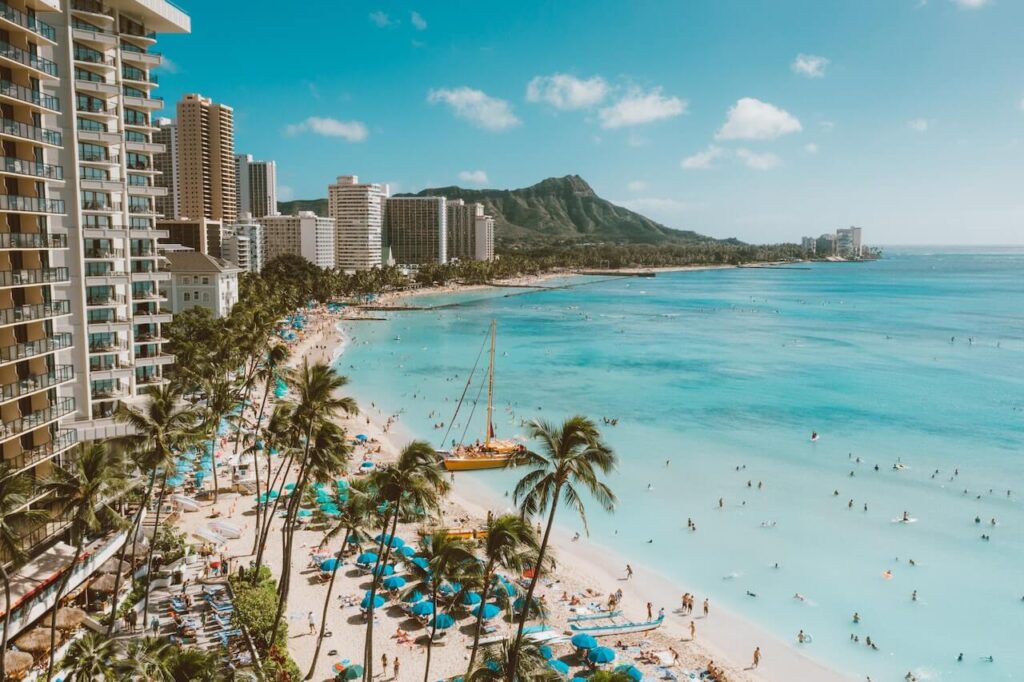 Halekulani Hotel

– Located next to Waikiki Beach, the Halekulani Hotel features a spacious ballroom and courtyard for business meetings along with four workstations and other amenities such as multiple bars, restaurants, and lounges. The hotel is well-known in the business community for its exceptional customer service.
Halepuna Waikiki Hotel

– Halepuna Waikiki is a critically acclaimed hotel known for its personalized service and friendly staff. The hotel features a business center and hospitality suite along with a meeting room for holding the best

conferences in Hawaiʻi

.
Castle Resorts

– Castle Resorts is a chain of luxurious beachfront hotels that offer multiple venues for meetings and conferences. The hotel chain is loved for its modern amenities and prime locations that offer magnificent views of Hawaiʻi.
The Kahala Hotel & Resort

– One of the best

hotels for business travelers

, the Kahala Hotel houses a 24-hour business center along with multiple ballrooms and boardrooms for holding conferences and other events. The hotel also boasts its own private beach and lagoon.
Hilton Hawaiian Village Waikiki Beach Resort

– This massive hotel features three expansive indoor conference halls and an outdoor venue spanning over 150,000 square feet that's perfect for holding a large-scale

conference in Hawaiʻi

.
Best Business Hotels on the Big Island
Mauna Kea Beach Hotel – Located approximately 25 miles from the Kona airport, the Mauna Kea Beach Hotel houses multiple venues spanning over 11,000 square feet for corporate events. Special amenities include a golf course, a spa, a tennis court, and a private beach.
The Westin Hapuna Beach Resort

– Loved for its excellent location overlooking the beach, the Westin Hapuna Beach Resort boasts more than 85,000 square feet of event space across multiple indoor and outdoor venues. If you want to hold your Hawaiʻi conference on the Big Island, then there's no better place!
Wrapping Up
Hawaiʻi, with its sunny beaches and stunning vistas, is one of the best places for holding business conferences that are memorable, productive, and full of opportunities for team-building.
If we've convinced you to hold your next conference in Hawaiʻi, then while you're booking your business hotel on Oahu or the Big Island, don't forget to reserve your rental cars as well. GoVibe offers a wide selection of rental vehicles at affordable rates and with concierge service.
Our easy booking process helps you skip the counter and save precious time from your busy schedule. Contact us to learn about our corporate discounts and book the best vehicles for your conference.