Get 15% off of your car rental when you purchase a Shaka Guide tour! Use promo code SHAKA15 at check-out.
9 Travel Hacks to Visit Hawaiʻi for Cheap
Published on - 2023-02-22
You'd love to visit Hawaiʻi—but you're not sure that you can afford it.
Hawaiʻi is by no means the cheapest vacation destination in America, but that doesn't mean you can't have fun on a budget.
If you plan your trip right with local knowledge of the cheapest times to visit Hawaiʻi and ways to stretch your dollars, then it's absolutely possible to have a vacation that's easy on the wallet without compromising on the experience.
Check out these tips for an affordable Hawaiʻi vacation.
1. Plan Your Trip During the Off Season
Though Hawaiʻi doesn't exactly have an "off" season, there are particular months when tourism dips and you can find deals on hotel stays. We recommend visiting the islands during late winter or early fall. You'll be able to save a lot of money on flights and accommodations while also getting a better experience due to fewer crowds.
Keep in mind, a winter day in Hawaiʻi still has highs around 80°F, and you'll have days of sun and clear skies anytime that you visit.
2. Travel on Weekdays and Connect in Hubs
Airfare is usually one of the biggest expenses while traveling, so it's important that you research well to find the cheapest flight tickets possible. You can use tools like Skyscanner to find the lowest prices from all major airlines across the world.
Depending on where you live, you may find cheaper flights by booking two separate legs. For example, Los Angeles has relatively affordable flights to Hawaiʻi every day, so if you fly first to Los Angeles, then book a separate, direct flight to Honolulu, you may find a lower total price.
Another tip to save on your Hawaiʻi vacation is to book your flight for a weekday. The number of people traveling during weekdays is much lower than on weekends, so you'll be able to find cheaper tickets. Booking your flight mid-week is usually the cheapest way to visit Hawaiʻi.
3. Find a Budget-Friendly Hotel
A budget-friendly hotel in Waikiki? It seems unlikely, but there are actually many affordable hotels and rental homes on Oahu if you know where to look. Instead of blindly trusting travel aggregator sites, browse some local accommodations to see what deals they currently offer. Castle Resorts and Hotels have four properties on Oahu ranging from beachfront condos to a boutique hotel, all with vacation amenities at reasonable rates.
A great tip for your Hawaiʻi vacation is to find services that partner with the hotel, like a rental car pick-up and drop-off. Finding travel and hospitality services that work together usually means the savings are passed on to you.
4. Get Your Meals From Food Trucks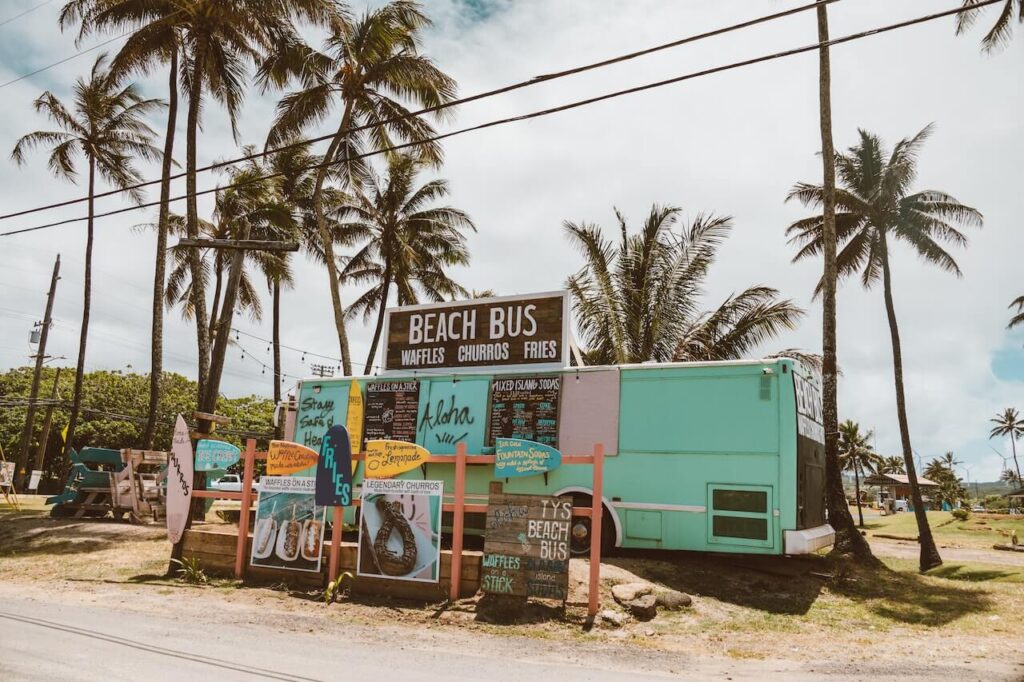 Food trucks are the cheapest way to find some delicious yet affordable meals on your Hawaiʻi visit. Whether you're craving a hefty taco or a garlic hot dog, the food trucks in Hawaiʻi have it all, including local food such as poke bowls and shaved ice.
Bonus Tip: Your Hawaiʻi vacation won't be complete unless you visit the farmer's market. Check online to see which days have open markets near you. There you can find some cheap food trucks along with other food vendors. Don't forget to grab some fresh produce to snack on while you're there!
5. Make the Most of Free Activities
Though there are many events and activities in Hawaiʻi that can cost an arm and a leg, there are even more that are completely free. You can catch a free hula show at Kuhio Beach at night and fireworks every Friday at Hilton Hawaiʻian Village.
You can also tour the Pearl Harbor National Memorial, Ho'omaluhia Botanical Garden, and the Hawaiʻi State Art Museum without having to pay a dime.
Exploring the natural wonders of Hawaiʻi is the best way to experience what the islands have to offer without blowing money on expensive shows. Take a hike to Manoa Falls. Go snorkeling, swimming, or surfing at Waikiki Beach. There are plenty of free activities to do in Hawaiʻi.
6. Book Paid Activities From Vendor Sites
If there's a paid show or activity that you really want to watch or take part in during your Hawaiʻi vacation, then our tip is to check out the vendor site before getting your tickets at the event venue. Most vendors offer discounts or deals if you book in advance online from their site.
For instance, you can save 10% on some packages at the Polynesian Cultural Cultural Center if you book from their site at least ten days in advance. We also suggest browsing through coupon sites to see if you can find some good deals.
7. Travel With Only Carry-On Baggage
Our next tip for a cheap Hawaiʻi vacation is to travel light. If you carry only a backpack or duffel bag with the essentials, you'll not only save money at the baggage counter but also be able to travel easily through Hawaiʻi without being weighed down by your belongings.
While bringing only a carry-on is certainly one of the cheapest ways to visit Hawaiʻi, make sure you roll up a smaller tote or drawstring bag and place it inside the backpack. That way, when you leave your hotel for the day, you won't have to bring your full carry-on bag with you.
8. Stick to Exploring Only Oahu
As much as we love all the islands, inter-island flight tickets can be really expensive. If you stick to exploring only one island at a time, you can save a lot of money on accommodations and rental cars with cheap weekly rates.
Our tip is to explore Oahu first on your Hawaiʻi vacation, which is the most economical out of all the islands. Honolulu does have public transportation, but it can be slow. The most efficient way to see the sites is to rent a car with flexible scheduling. For example, if you stay for a week but only need a car for three days, you can schedule all of your day trips back-to-back and save money with a shorter-term car rental.
9. Rent a Car From Local Companies
There are a few big car rental chains on the island, but the cost of renting from them can easily wreck your budget Hawaiʻi vacation. Our tip is to rent from local companies—such as GoVibe—to find rates up to 25% lower than the bigger chains.
We provide an affordable rental experience with some great benefits such as discount tickets at popular tourist spots in Hawaiʻi. We also bring the car to you instead of making you wait in line at the airport. If you only need a rental car for a few days during your stay, that's fine with us—just let us know, and we'll arrange for a convenient pick-up and drop-off.
With our app, you can rent a car within minutes and manage your booking with ease. Spend more time vacationing and less time stressing over how you'll travel. Reserve your car with GoVibe now. We look forward to seeing you here.