Get 15% off of your car rental when you purchase a Shaka Guide tour! Use promo code SHAKA15 at check-out.
9 Ways to Tour Oahu on A Budget
Published on - 2022-08-26
Many people think of Hawai'i vacations as only accessible to the wealthy. While our beautiful islands are a premier destination for travelers across the globe, getting here can be expensive. But once your flight has landed, getting around Oahu doesn't have to break the bank. Here are some of our favorite tips to tour the island of Oahu while staying within budget.
1. Plan your travel time wisely
Like every tourist destination, there are certain times of the year that are the peak season for travel. If you're worried about getting around Oahu on a budget, consider the time of year when you visit. The peak travel seasons for Hawai'i are June through August and December through March. People are often looking to escape the cold weather, celebrate the holidays, or take a summer vacation. If your schedule permits it, consider traveling in an "off" month like September or October. We promise—Hawai'i is tropically warm all year round.
2. Don't book a resort
There's so much to see outside the resort swimming pool, and getting around Oahu isn't difficult if you do a bit of research. All-inclusive deals often include add-ons that you don't really need. If you still want your towel service and fancy drinks, you can find similar luxurious, relaxing experiences at a classy hotel.
If you want to save some money for more activities when you tour around the island of Oahu, book a short-term rental or condo. You'll have more space, more freedom, and a more authentic experience of what life in Hawai'i is like.
3. Eat at local restaurants
Local is always better when you're looking for the best eats in a new city—we're glad to recommend some of our favorites! Look for small local shops. Hawai'i has such a vibrant food scene, especially on the north shore of Oahu. You can get delicious bento boxes, pancakes, roasted pig, and more at a fraction of the cost of chain restaurants. Plus, it will definitely taste better. If you're a huge foodie, you could design an island of Oahu food tour to create your ideal food crawl!
4. Rent a car
Ubers and Lyfts are great for a one-off trip, but having to rely on them while you're getting around Oahu adds up quickly. If you want to explore more than a half-mile radius of your lodging, you're best off booking a rental car. There are multiple ways you can do this, but airport rentals have a huge markup, there's a long wait time, and sometimes the vehicle you want isn't available when you arrive to pick it up.

GoVibe is a great alternative to the frustrating airport car rental experience because we come to you. Our pick-up and drop-off services make renting convenient, and all of our vehicles are clean and regularly maintained.
5. Walk when you can
While renting a car gives you a lot of freedom, there are some cases in which walking is best! Certain parts of Oahu, like Waikiki, are easily walkable. Plan your itinerary so you only need a vehicle for a certain number of days. Part of your tour around the island of Oahu has to include meandering around some local parts of town, and this is a great way to explore the local life on a budget.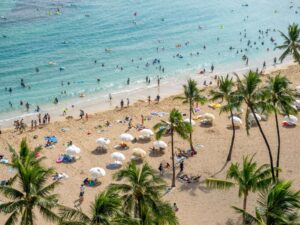 6. Explore the outdoors
Hawai'i has unlimited resources when it comes to the beautiful outdoors. Many of the national parks and outdoor attractions have little to no cost. As you get around Oahu, you'll find that there is an abundance of nature to explore. From the white sand beaches to dense jungle terrain, you can swim, bike, and hike the area on a budget.
7. Bring your own essentials
You're going to need a few essentials in Hawai'i like sunglasses, sunscreen, and hats. If you're foolish enough to forget them, you'll pay the price for having to buy them on the island. Come prepared with your own beach kit for your tour around the island of Oahu, and you'll save yourself both money and discomfort from the sunburn.
8. Cook your own food
For most people, food is the biggest expense outside of lodging and transportation. If you're staying at a condo or short-term rental, you'll likely have a kitchen. A great way to save money is cooking for yourself and eating in. Make it a whole event and try an authentic Hawaiian recipe. Plus, visiting a grocery store around Oahu gets you away from the high-traffic tourist areas and gives you a local experience.
It may combine with other errands, too. If you do run out of sunscreen, buy more from a grocery store—never a souvenir stand right next to the beach.
9. Hit the historical sites
There are a variety of fun and free activities to do on Oahu. If you're a history buff, then you're in luck. There are many historical sites, but the most famous is the Pearl Harbor Visitor Center. Parking, admission, and museum tickets are all free to the public and require no reservation. You can also reserve slots for the shuttle to take you to Ford Island to tour the USS Arizona at no cost.
We know that traveling to and around Oahu can be expensive, but if you do a little bit of research and time your travels right, you can experience the beauty of Oahu at a price that won't break the bank.
Get the Most With GoVibe!
Experience getting around Oahu with GoVibe! We provide our customers a hassle-free, professional experience so you can make the most of your time here. From travel tips to creating your own tour around the island of Oahu, our team is here to help you find the vehicle that best suits your needs. Download our app to learn more and book your vehicle today!