Get 15% off of your car rental when you purchase a Shaka Guide tour! Use promo code SHAKA15 at check-out.
Dukeʻs Oceanfest
Published on - 2023-09-15
In the late August of each year, the shores of the iconic Waikiki Beach come alive with throngs of competitors and spectators for a nine-day long sporting festival known as Duke's Oceanfest. This complete guide has everything you need to know about Duke's Oceanfest 2023.
What is Duke's Ocean Festival?
The Duke Kahanamoku Ocean Festival is an ocean sport festival that honors the memory and legacy of the Hawaiian legend Duke Kahanamoku who was an Olympic gold medalist, the "Ambassador of Aloha", and the father of modern surfing. Duke Kahanamoku played a remarkable role in the rise in popularity of surfing and the spirit of aloha.
The nine-day long festival features a wide variety of water sports and activities, including surfing, paddleboarding, swimming, volleyball, tandem surfing, water polo, and canoe racing. It's an opportunity to see top athletes in action and even take part in some of the competitions yourself if you're up for the challenge!
Duke's Oceanfest also features a range of beachside events in addition to the exciting water sport championships. You can enjoy hula shows, authentic Hawaiian cuisine, live music, local handicrafts, and a festive atmosphere that will become the highlight of your visit.
What Makes Duke's Oceanfest Special?
Duke's Oceanfest has found a special place in the hearts of locals and visitors alike because it brings together people of all ages, backgrounds, and from every corner of the world in a celebration of the ocean and a shared love for aquatic sports.
The atmosphere of Duke's Oceanfest nurtures the spirit of aloha and instills a sense of ohana with participants cheering for each other and forging lasting bonds. Even if you're just an average beachgoer, the festival is still a fantastic event to attend after you're done exploring the Diamond Head Crater or Pearl Harbor. You'll be able to catch the sun and dip your toes in the water with live sporting events to keep you entertained.
How To Attend Duke's Ocean Festival 2023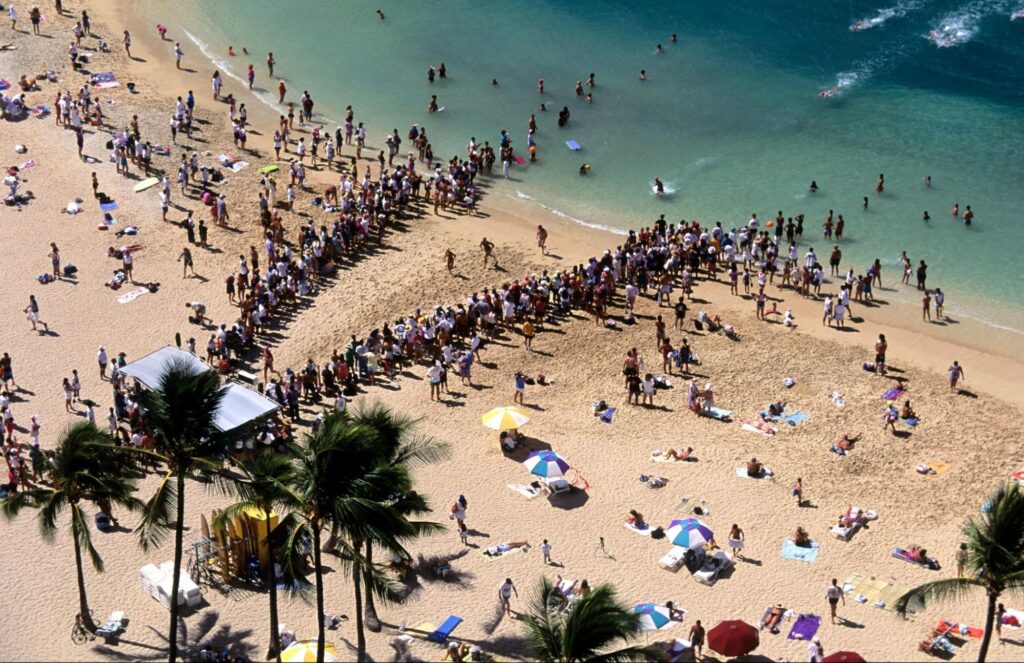 The last week of August is typically when Duke's Oceanfest happens. In 2023, the event is set to begin on the 18th and end on the 27th of August. So, if you're planning a visit to Hawai'i during this time, you're in luck! You can fly in and directly take part in the festivities.
There's no need to plan your whole trip around it unless you're an aquatic sport fanatic because it would be exhausting to attend all the events anyway. Instead, pick a few activities you are most interested in and plan a few days from your own Oahu exploration itinerary to coincide with those events.
Most of the activities during Duke's Oceanfest are open to the public and can be attended for free of cost. Check out the official site for the complete itinerary.
Here are some things to keep in mind to make the most of your visit:
Book a stay in advance because August is a peak tourism month. Call one of our partner hotels to reserve your room.
If you want to participate in an event, register for it beforehand. There's usually a pre-registration form you have to fill out and submit.
Make sure you mingle with the locals because Duke's Oceanfest is as much about community as it is about the aquatic

activities

.
Get Going With GoVibe
Attend the Duke's Ocean Festival 2023 and explore Oahu destinations in the comfort of GoVibe's rental cars. We're a locally-owned and operated Hawai'i rental car service dedicated to making your Oahu experience an unforgettable one. With hassle-free rental car booking and superior customer service, you can't miss out on this deal. Browse the availability for your travel dates now!