Get 15% off of your car rental when you purchase a Shaka Guide tour! Use promo code SHAKA15 at check-out.
Luxury Car Rentals in Honolulu
Published on - 2022-02-25
There are few better ways to explore Oahu than in a luxury rental car. At GoVibe, we believe a luxury experience is not just about the car you drive but also the service you receive.
We'll meet you at the airport or one of our partner hotels in Honolulu for a personalized concierge pick-up. Plus, you'll always have free cancellation until 24 hours before your rental. Browse our lineup and check availability now.
Take the Wheel with GoVibe
When you rent a luxury car in Honolulu, you'll choose from meticulously maintained dealership quality vehicles.
Selections include trim beauties like the Mercedes-Benz E350, with a peppy, turbocharged 255hp engine, and comfort features like an automatic transmission, top-quality sound, and auto-dimming headlights.
Or choose the rumbly-throated Chevrolet Camaro with a muscular 8-cylinder engine and own the highway. These cars can make every business trip, vacation, or special occasion photogenic and memorable.
Starting from the moment you arrive, GoVibe helps by providing premium VIP service. Whether you are using our cars for a special weekend trip or to tour the island, you'll get a car that is spotless, sanitized, and ready to take you to your destination in style.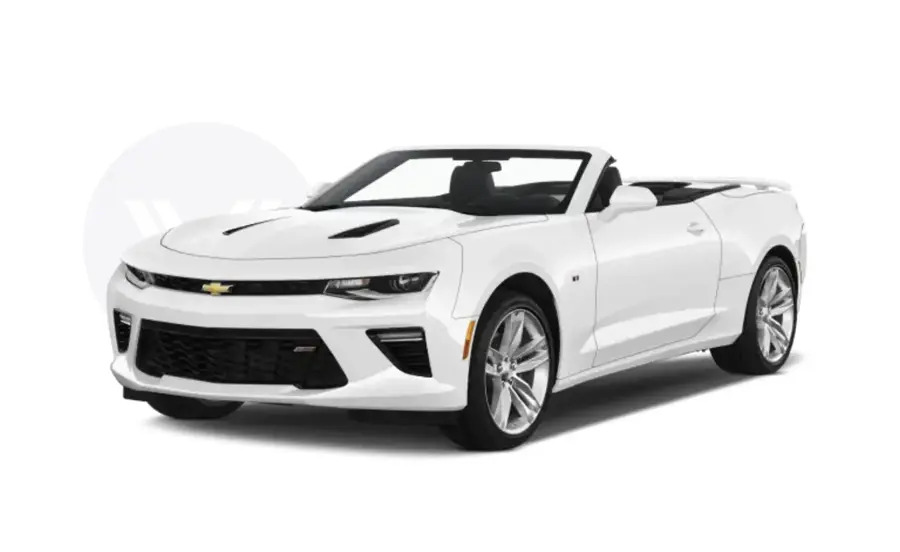 Tour Like a VIP
GoVibe makes luxury car rentals on Oahu simple.
Picture this. While everyone else is waiting for a taxi or a shuttle to their rental car, you'll pull away in a new Mercedes-Benz GL500 and be at your destination in minutes. As a locally owned and operated company, we take pride in our carefully inspected vehicles and customized service. You know luxury when you feel it, and you notice when it's not there. It's never missing in a GoVibe rental.
Travel in Luxury
There's nothing like cresting the rise of a mountain road behind the steering wheel of a nimble luxury vehicle. There's a unique sensation to driving along the rugged volcanic slopes of the Ko'olau Range that rise just a short distance from Honolulu. A rental car from GoVibe can transport you to these unforgettable sites and more, quickly and safely.
Escape the crowds on Oahu's North Shore or take a leisurely drive around the island for iconic coastal views. We recommend the Kalanianaole Highway for gorgeous lookout points and to stop, stare, and be stared at in your luxurious ride. Ask us anything about driving in Hawai'i. Our local staff are happy to recommend hidden gems and lesser-known routes so you can maximize your experience.
What Makes GoVibe Different
Many luxury car rental services in Honolulu charge exorbitant hourly rates that make touring Oahu cost prohibitive. GoVibe is committed to fair pricing and consistent service. We don't surge our rates in the peak tourist season, and we won't charge you by the minute if you're running a bit late to return the car.
We partner with local dealerships to deliver the highest quality vehicles to our Members, so each luxury car rental with GoVibe helps support local businesses on Oahu. So let the wind caress your skin as you cruise down Pali Highway and explore the Windward Coast.
Unlike other companies, we come to you. If you're staying near Waikiki Beach and you don't require a vehicle every day of your trip, we'll bring a car to your hotel just for the days you need it. At GoVibe, we treat everyone like a VIP. You'll feel like a celebrity without the paparazzi and reporters crowding you as you get out of the plane. Just look for the driver in the purple shirt, and we'll put you on your way in no time.
Local Car Rentals in Honolulu
If you live in Honolulu and are interested in daily or weekly luxury car rentals, call us at (808) 292-5188 to make arrangements for your car pick-up and to ask about current deals and promotional pricing. Despite what you may hear on the news about no rental cars in Hawai'i, we have a wide selection of affordable vehicles.
GoVibe has a range of luxury car rentals to choose from. Our makes include Mercedes, Audi, Porsche, Lexus, and more. If you want something sleek and sporty, we've got you covered. Big and burly? That too. We provide luxury rentals for Oahu to suit a variety of terrains and lifestyles so you won't have to compromise on your vehicle.
Get It All With GoVibe
Enjoy the height of carefree travel. Explore Oahu in a luxury rental car. Download the GoVibe app now, and see how we can improve your next visit, special occasion, or business trip. Once you try our vehicles, you'll come back to GoVibe every time you visit Oahu!