Get 15% off of your car rental when you purchase a Shaka Guide tour! Use promo code SHAKA15 at check-out.
Is a Hawaiʻi Helicopter Tour Worth It?
Published on - 2023-08-27
Hawai'i boasts a varied topography with rich landscapes replete with volcanoes, waterfalls, and beaches. No visit would be complete without taking an excursion to appreciate the islands' beauty from every angle, especially from above. With helicopter tours on Hawai'i's beautiful island of O'ahu, you'll get a wide, unfettered view of breathtaking vistas and hidden gems.
Before you put this activity on your list of things to do in O'ahu, check out what you can expect and things to consider before booking.
Locations to See From Above
Granted the diversity of the islands, there's no shortage of sights to see from your aerial view. Your route will depend on the Hawai'i' helicopter tours you book, but the Big Island's active volcanoes Kīlauea and Mauna Loa, the vibrant Haleakalā Crater on Maui, the captivating Waimea Canyon on Kaua'i, and the Diamond Head Crater and Pearl Harbor on O'ahu are some of the must-visit locations to keep an eye out for while booking.
Other sights to be on the lookout for are: Kaua'i's Na Pali Coast's lush vegetation, the towering cliffs of Moloka'i's Kalaupapa Peninsula, and the stunning beaches in Waikiki. Although the beauty of these locations can be enjoyed from the ground, the view pales compared to what you can see from up above.
How Much Does a Helicopter Tour Cost
The cost of helicopter tours in vary based on the tour's duration, the locations to be visited, and the operator's skill level. You can expect to pay between $200 to $700 or more when booking with a reputable tour company. You might be able to find cheaper Hawai'i helicopter tours for O'ahu destinations with some lesser-known companies, but this is one of those activities where you can afford to be more liberal with your budget to get the best experience. After all, it's not often that you get the chance to get a first-hand aerial view of the breathtaking landscape and scenery of Hawai'i.
What to Consider While Finding An Operator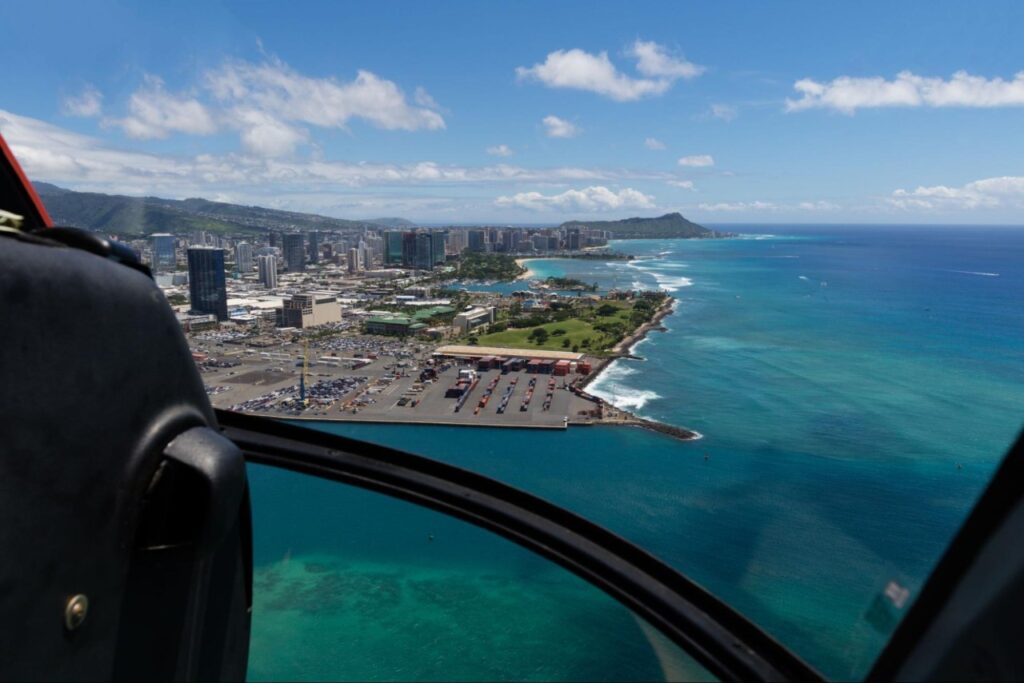 Our Hawaiian Helicopter Tour Pick
At GoVibe, we prioritize our Members' safety, so we always recommend Blue Hawaiian Helicopters for aerial excursions. Blue Hawaiian Helicopters has been in the game since 1985 and is well known for its dedication to safety, superior customer service, and state-of-the-art helicopters that offer the best viewing experience possible. They have a wide variety of Hawai'i helicopter tours on O'ahu and the other islands that are tailored to highlight the distinctive beauty of each of the islands.
Blue Hawaiian Helicopters's tour packages start from $369 per person, but if you're a GoVibe Member already, you can enjoy an exclusive discounted price. If you're not a Member, then consider becoming one for free by booking your Hawai'i rental car with us and get ready to embark on an extraordinary adventure with discounted tickets to Blue Hawaiian Helicopters.
Feel free to contact us if you have any questions or want more information about our recommendations for helicopter tours in Hawai'i.