Get 15% off of your car rental when you purchase a Shaka Guide tour! Use promo code SHAKA15 at check-out.
Visiting Your First Hawaiian Luau
Published on - 2023-08-21
The luau is one of Hawai'i's most treasured traditions that highlight the islands' vibrant culture through food, music, dance, and storytelling. Attending a Hawai'i luau on O'ahu is the best way to experience Hawaiian culture up close. But before you add a Hawaiian luau to your O'ahu must-do list, check out everything you should know about this festivity.
What Happens at a Luau?
The history of luaus dates back hundreds of years, when ancient gatherings were held to celebrate significant occasions like births, marriages, and military victories. Today, luaus offer an immersive educational experience for island visitors.
This lively celebration usually takes place outside, either in a picturesque garden or on the seashore, and features a variety of activities including a Hawaiian feast, live music performances, cultural exhibits, and hula dance that uses delicate motions and gestures to convey the history, traditions, and natural beauty of the island and its people.
The focal point of any Hawaiian luau on O'ahu is a lavish buffet-style dinner known as Aha'aina, meaning 'gathering for a meal.' An aha'aina showcases the distinctive flavors of the Hawaiian islands through traditional dishes like kalua pork (roasted pig), poi (a classic Hawaiian dish prepared from taro root), poke (marinated raw fish), and tropical fruits.
A Samoan fireknife dance, or 'ailou afi, usually marks the grand conclusion of the best Hawai'i luaus on O'ahu.
How Much Does a Luau Cost and How Long Does It Last?
The average cost of attending a luau is $115 to $275 per person. Most luaus begin at sunset and last 3-4 hours, which is ideal if you first want to explore monuments or beach parks while the sun is still up. However, it's always best to confirm the specifics of the Hawaiian luau you intend to attend on O'ahu because the duration could change.
How Should You Dress for a Luau?
A luau is a celebration of Hawaiian culture, so dress casually in a flowy shirt or dress. Opt for tropical and floral prints and bright colors and slip on sandals or flip-flops. Make sure to dress comfortably so you can enjoy the evening to the fullest. Don't make the mistake of sporting your swimwear at the luau.
Mistakes to Avoid at a Luau
Speaking of mistakes to avoid, one of the biggest mistakes you could make while attending a Hawaiian luau on O'ahu is arriving late to the festivities. If you want to experience the full show of activities and performances, get to the location on time. Make sure that you have an advanced reservation to guarantee your spot.
Though the food will certainly be tempting, you should also try engaging with the performers, taking part in cultural events, and discovering traditional crafts to make the most of your time there.
It's also important that you respect Hawaiian customs and traditions, so follow all the guidelines provided by your host.
How to Spot an Authentic Hawaiian Luau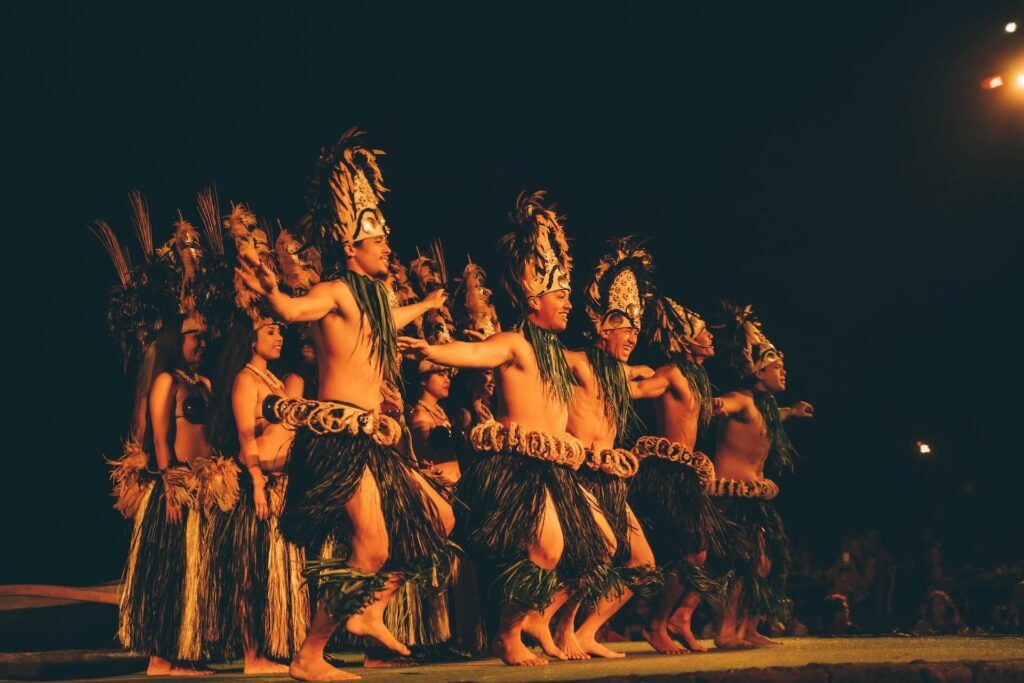 The best authentic Hawaiian luaus on O'ahu are traditionally initiated with the blowing of a conch shell and feature mats made of ti and hala leaves. Interestingly, neither the Samoan fireknife dance nor the hula dance are authentic inclusions of luaus, with the latter having been banned in 1830 by Queen Ka'ahumanu. But most commercial luaus include one or both of these performances.
An integral aspect of authentic Hawaiian luaus on O'ahu is the imu, an underground oven that you'll see cooking the kalua pig as you enter. Imus cook the food slowly, so they're built before the luau begins.
While searching for an authentic luau, look for ones hosted by the local Hawaiian community for a genuine representation of Hawaiian culture. The goal of these luaus is to educate guests about the islands' rich cultural heritage through performances and cuisines featuring locally-sourced ingredients such as taro root, fresh fish, and tropical fruits.
Is Attending a Luau Worth It?
Whether you're a history buff, a foodie, or just looking for an evening of unique entertainment, a Hawaiian luau on O'ahu will offer a chance to connect with the locals, learn about ancient customs and traditions, and create lasting memories. It's an enriching experience that's well worth attending at least once during your island visit.
Best Hawaiian Luau on O'ahu
Paradise Cove Luau is one of the most popular luaus in Hawaii'i, offering an authentic experience you'll cherish for a lifetime. With GoVibe's luxury rental car service, you not only get easy transportation to the venue but also discounted tickets to the best Hawaiian luau on O'ahu. Book now to become a GoVibe Member and reserve your spot!