Get 15% off of your car rental when you purchase a Shaka Guide tour! Use promo code SHAKA15 at check-out.
Where to Park in Waikiki
Published on - 2023-04-23
Waikiki Beach is one of the main attractions on Oahu and, as such, sees crowds of locals and tourists every day. As it is in most big cities, parking is a commodity in Honolulu, and finding an affordable option can be difficult. Fortunately, the GoVibe team has compiled our best tips. Here's everything you need to know about where to park in Waikiki.
The Waikiki area is home to dozens of hotels and resorts, but don't expect to park for free if you're a guest there. Nearly all of them charge a daily parking fee — even though they rarely display this information on their websites. Make sure you call ahead before you book your room to learn the rate. It's usually between $25 and $45/day.
If you're planning to park off-site, here's where to go in Waikiki.
Public Parking Garages
If you're just coming to Waikiki for the day, expect to pay around $6/hour. The Waikiki Parking Garage on Seaside Ave. has early bird specials if you're in by 9 am. Depending on the day, it's $10-15 to park until 5 pm. Otherwise, daily rates in the area are between $30 and $45.
The Royal Hawaiian Center may be our favorite place to park in Waikiki. It's the biggest garage in the area, so you won't be driving around trying to find a lot with open parking spaces. Plus, if you make a purchase in one of the nearby shops, you can validate your parking ticket for a discounted rate. If you're coming to Waikiki to shop or dine anyway, this ends up being the most affordable public parking option near Waikiki Beach.
On the weekends, the Royal Hawaiian Center also offers a valet service for your convenience. It's an extra charge, but many visitors prefer this over navigating a full parking garage at night. GoVibe recommends that you tip your valet driver.
Another nearby parking spot is the International Market Place at the intersection of Kūhiō Avenue and Walina Street. The garage is open 24 hours, and, like the Royal Hawaiian Center, you can validate your parking ticket with a minimum $10 purchase at any of the stores or restaurants.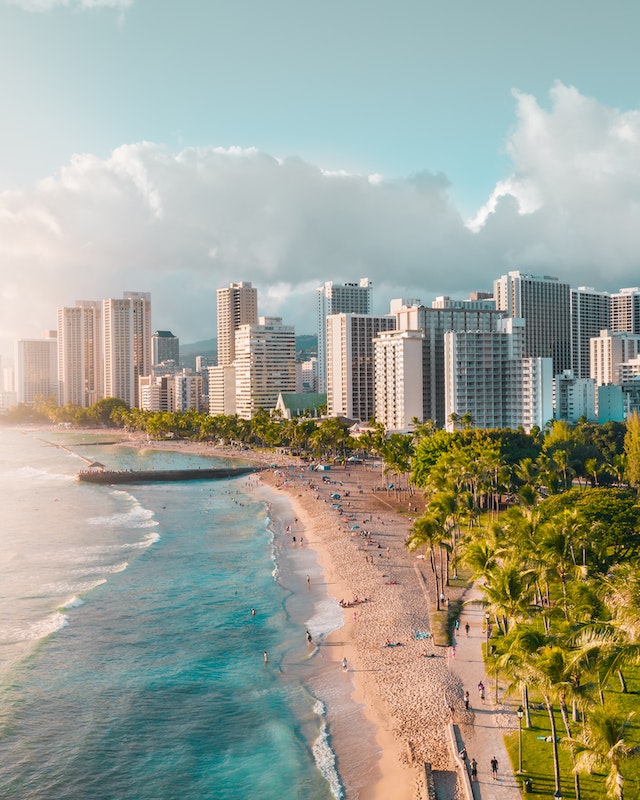 Public Street Parking Near Waikiki Beach
Street parking is metered in Waikiki. It's enforced Monday – Saturday from 7 am to 6 pm. Meters are $1.50/hour, and they do accept credit cards. During the peak travel seasons, it is pretty difficult to find a spot near the beach, but your chances are better if you arrive early.
Especially in the summer months and around Christmas, the meters are patrolled regularly. Waikiki is not the place to risk it by not feeding the meter. Even if you're only shopping for an hour, you will likely find a ticket on your car when you return.
While the Waikiki area is generally very safe, we advise that you always lock your car and hide all valuables or take them with you. Also, be sure that you don't leave any food or plastic items in the front seat or on the dashboard. It's sunny in Hawaiʻi, and your items will likely melt!
Is There Free Parking in Waikiki?
It may seem expensive when considering where to park in Waikiki. However, there are a few free parking areas if you know where to look.
There is some free parking along Ala Wai Boulevard near the canal, which puts you about a 10-minute walk away from the beach and shopping. Be careful, though. Parking isn't allowed here on weekdays between 8:30 am and 11:30 am, and the city is pretty quick to tow you if you don't follow the rules. They need the street clear to clean it, so expect your car to be gone if you leave it there past 8:30.
You can also access free parking at Ala Moana Beach Park and Mall during the day. This is the most popular public parking near Waikiki Beach, and spots can be hard to come by during the weekends. We recommend arriving early to secure your spot.
How to Save Money When Parking in Waikiki
Finding free day parking will save you tons when choosing where to park in Waikiki, but how can you avoid the resort parking fees or garage fees when parking overnight? The best option is to choose a rental car company that offers hotel drop-off and pick-up.
GoVibe Rental Cars offers concierge services. You choose when you need a vehicle, and our team will bring it to your hotel. For example, if you're staying six nights but only plan to need a car on the last two days of your trip, simply let us know. Most car rental companies lock you into paying for a week, but with GoVibe, you can rent a car for only the days you need it.
Contact GoVibe Today
At GoVibe, we believe everyone deserves VIP treatment. Whether your travel group needs an economical sedan, a rugged SUV, or a family-sized van, we have the vehicles to make your trip spectacular. Our team will also give you tips and tricks on where to park in Waikiki to save money once you have your vehicle.
Contact GoVibe today and learn how you can benefit from our VIP experience by creating a free membership. We are proud to serve all of Oahu including the Waikiki Beach area. Call us at (808) 292-5188.