Get 15% off of your car rental when you purchase a Shaka Guide tour! Use promo code SHAKA15 at check-out.
Big Island vs. Oahu: Which One Should You Go To?
Published on - 2023-02-02
We'll be honest—there's never enough time to do everything in Hawaiʻi. With eight major islands promising both relaxation and adventure, picking one can be difficult. If you're a first-time visitor, you'll likely choose between the Big Island and Oahu.
Both offer their own unique sights and experiences in terms of history, culture, and recreational opportunities. Whether you want to go snorkeling in the crystal-clear waters, soak up the sun in a beachside hammock, or go on an adventure near the active volcanoes, we will show you the best beaches, the best sightseeing spots, and the key differences between the Big Island and Oahu!
Big Island vs. Oahu: Highlights
The Big Island, also known as the Island of Hawaiʻi, is Hawaii's youngest but largest island and is twice as big as all the other islands combined. The island is famous for its different climate zones, but that doesn't mean the weather is unpredictable. You'll still have warm and sunny days on the beach, and you'll want some layers if you go up in elevation.
Everywhere in Hawaiʻi has water, but if you want volcanoes, the Big Island is for you. One of the highlights of your trip will undoubtedly be Hawaiʻi Volcanoes National Park and the black sand beaches. Explore the rugged terrain, steam vents, and lava tubes either by car or on foot. If you prefer to have a more secluded and laid-back experience with lots of outdoor adventures, then between the Big Island and Oahu, you should pick the Big Island.
Oahu is Hawaiʻi's most popular island due to having Honolulu. It's a cultural hub with endless daytime attractions and vibrant nightlife, and you'll find plenty to do without having to travel far. Honolulu is generally safe, but it does have the crowds and traffic of most cities, so it's best to rent a car and drive along the coast if you want to find a more secluded experience.
If you're flying here, you'll most likely land at Daniel K. Inouye International Airport, so you may find it logistically easier to stay on Oahu, especially if you have a short trip. If you want to relax on golden beaches, go museum hopping, and experience bustling city life, then Oahu is your go-to.
Big Island vs. Oahu: Cultural and Historical Sites
The Big Island has quite a few sites steeped in history. The numerous historical parks including Pu'uhonua O Honaunau, Kaloko-Honokohau, and Pu'ukohola Heiau offer a glimpse into the indigenous Hawaiian settlements with well-preserved places of worship, housing platforms, rock carvings, and more.
But if you're a passionate history and culture buff who wants to learn about Hawaiʻi on a deeper level, then Oahu is a better option over the Big Island. Most of the significant events in Hawaiian history, such as the establishment and downfall of the Kingdom of Hawaiʻi, and the bombing of Pearl Harbor, took place on this island.
Places like the Polynesian Cultural Center and Bishop Museum attract the majority of tourists who come to Hawaiʻi because they display the largest collection of relics and artifacts from the Hawaiian kingdom. So between Oahu and the Big Island, Oahu is undoubtedly better for cultural and historical sightseeing.
Big Island vs. Oahu: Nightlife and Cuisine
The Big Island doesn't boast a prolific nightlife scene, but it does have its few nooks in Kona and Hilo where you can indulge in some late-night fun, chug a few beers, and get a bite of delicious food. Make sure to visit a coffee plantation (or a dozen of them) to sample the specialty roasts.
Oahu, on the other hand, is the epicenter of Hawaiʻi's nightlife and cuisine. What makes Oahu different from the Big Island is that the bars and restaurants on Oahu stay open till late in the evening. Visit a luau at least once for dinner for authentic Pacific Rim cuisine and a memorable show.
Big Island vs. Oahu: Things to Do
Yes, they both have beaches. For most tourists, this is the primary activity in Hawaiʻi.
Whether you want to snorkel, surf, scuba dive, or just lounge on the sand, you can't go wrong with either choice. So between the Big Island and Oahu, which offers the better experience? It's a matter of preference—discover some of our favorite recommendations below.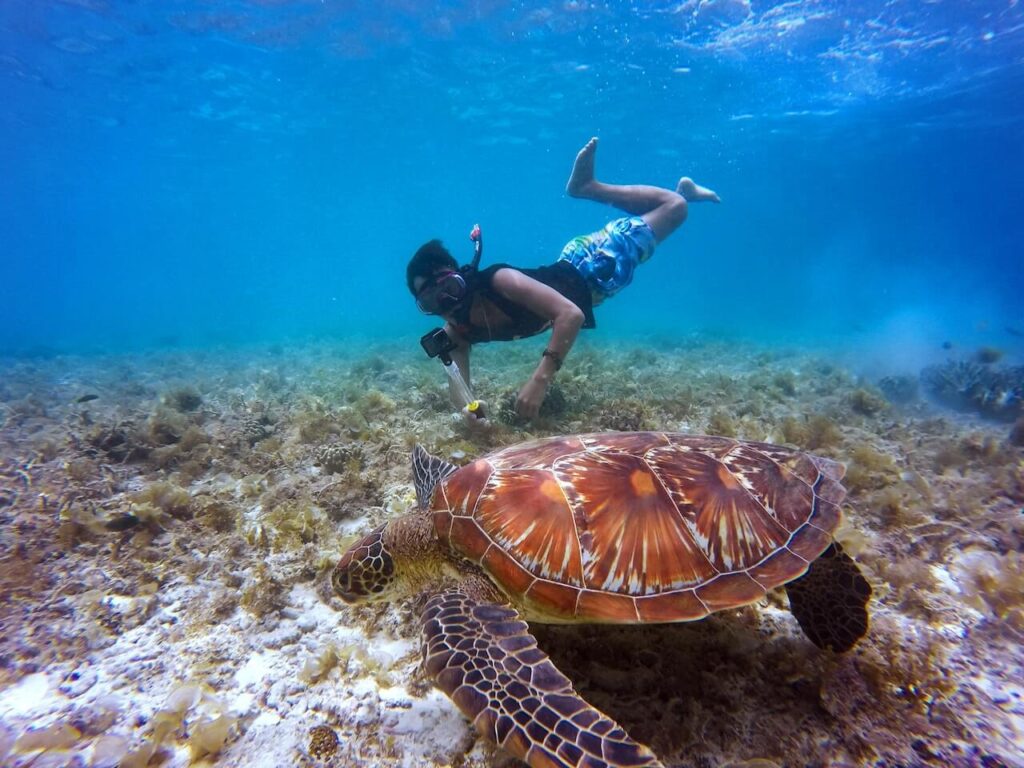 Big Island
Beaches on the Big Island are distinct in their colors and textures as a result of the island's relative youth and active volcanoes.
Kua Bay Beach, Kauna'oa Beach, and Waialea Beach have sparkling white sands and populated reefs where you can go snorkeling or scuba diving to see vibrant tropical fishes, elusive manta rays, and other aquatic creatures.
If you want to see black sand beaches, then the Big Island is better than Oahu as it houses Punalu'u Beach and Waipi'o Beach—two of the few black sand beaches. The sands here have a granular texture and are relatively hot because of their color. These two beaches offer a rare sight of the endangered green sea turtles swimming or sunbathing.
You may even check out Papakolea Beach, a rare green sand beach with an olive shade. Regardless of your favorite color of sand, the Big Island is ideal for whale and dolphin watching, stargazing, ziplining, surfing, paddle boarding, horseback riding, golfing, and biking. Do a little research online and book your excursions ahead of time for the best experience.
Oahu
Oahu is better known for its sparkling white sand beaches. Hanauma Bay is a fantastic spot for snorkeling, but the secret's been out for a while—get there early as it will get crowded.
Though Waikiki Beach is the heart of Hawaiian tourism, it's often packed. You'll want to visit Waikiki at least once for the experience, but Waimanalo and Makapu'u beaches on the windward coast are a better fit for you if you want something that feels more to yourself.
Just like the Big Island, Oahu too has its own protected beach for green sea turtles called Turtle Bay where you can take a hike and snap some pictures of these majestic sea creatures. Surfing, sailing, and kayaking are some of the most exciting activities you can do on Oahu's numerous beaches.
There are plenty of opportunities to go inland, too. While you're on Oahu, take a hike at Diamond Head Crater for a panoramic view of the island. We also recommend exploring the lush greenery of Manoa Falls, paddling to Mokoliʻi (Chinaman's Hat), or wandering the puzzling paths of the enormous Pineapple Garden Maze at Dole Plantation.
From shopping in the urban center of Honolulu to scouting the far reaches of the island's wilderness, there are many opportunities for entertainment on Oahu.
Final Verdict: Is the Big Island or Oahu Better?
Between Big Island and Oahu, which is better? It really depends. If you're the type who wants to have an easy-going yet exciting time exploring Hawaiʻi's natural beauty and mingling with locals in their own vibe, then the Big Island is better for you.
But if you want to have a more balanced experience that includes Hawaiʻi's urban attractions and activities, then you'll want to travel to Oahu.
No matter which island you choose, you're guaranteed to have a wonderful time if you embrace the spirit of Aloha and explore the islands at your own pace.
How to Get There
For a better experience traveling on Oahu or the Big Island, we recommend renting a car from an affordable rental service like GoVibe so you don't have to waste time waiting for rideshares and taxis.
GoVibe offers premium rental cars at rates that are up to 25% lower than competitors. Best of all, with GoVibe you won't have to wait in a long line or share shuttles to reach your car.
We pick you up at the airport. Download the app now and make the most of your trip to the Big Island or Oahu.