Get 15% off of your car rental when you purchase a Shaka Guide tour! Use promo code SHAKA15 at check-out.
Best Search Engines for Cheap Rental Cars in 2023
Published on - 2023-04-08
If you're looking for the cheapest rental cars, here's the secret: The best deals often come from the rental agency's website. By the time you layer on loyalty points and promotions, you can end up with a better deal than you'll find through a price aggregator. If you're coming to Hawai'i, we'll save you the trouble — GoVibe is the cheapest!
But if you don't have time to look at each site individually, or you want to double-check that you're getting the best price, it is helpful to use search engines. Yet the sheer number of aggregator sites can quickly leave you feeling overwhelmed.
We've compiled a list of the best websites to rent a car for cheap in 2023. We've weighed the pros and cons of each to make it easier for you to find exactly what you're looking for and save money on your next trip.
Ranking the Best Search Engines for Rental Cars
1. Hotwire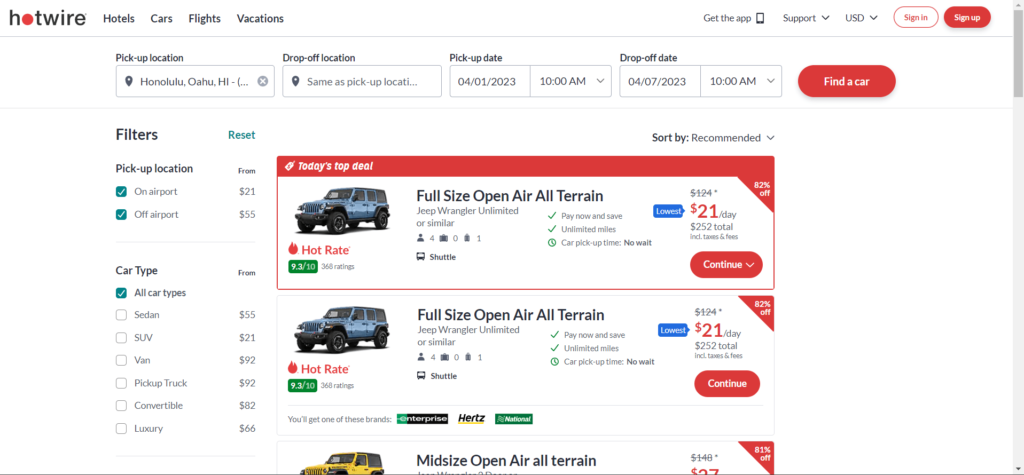 Hotwire is the best search engine for quickly finding heavily discounted rental cars. The top result shows the cheapest available rate, also known as the Hot Rate, which includes taxes and additional fees. The agency is only revealed after you make the payment, but it's usually one of the well-known companies.
However, there is a catch to these jaw-dropping prices, and it's important to understand what "pay now and save" really means. Vehicles under this deal are not eligible for cancellations or any other changes once you've booked it. If you're not too sure about your travel plans or have to cancel due to any unforeseeable circumstances, then this can ironically prove to be an expensive booking.
Pros:
Can find heavy discounts even on mid-size cars.

Good deals from different vendors.
Cons:
You can't cancel or alter the details of your booking after the reservation is complete.

No rewards program.
2. AutoRentals
If you're only concerned about the price, then AutoRentals is the best search engine for rental cars. It compiles prices from different rental companies, travel agencies, and other search engines into one neat table that makes comparisons so much easier. You can find the Best Daily Rates and Best Total Rates side by side at the top with the first column displaying different vehicle segments you can compare. Filtering options are plenty for narrowing down the results. You can scroll down to find the details of the final pick-up.
The downside is that booking cannot be done directly on AutoRentals. This is a research step, but you still have to go somewhere else to make your reservation.
Pros:
Clean interface for viewing data quickly.

Best search engine

if you just want to compare prices

for rental cars

and find the best deal.
Cons:
Besides price, company name, and passenger and luggage capacity, there aren't many details available about the car.

You can't book directly on the site.
3. Expedia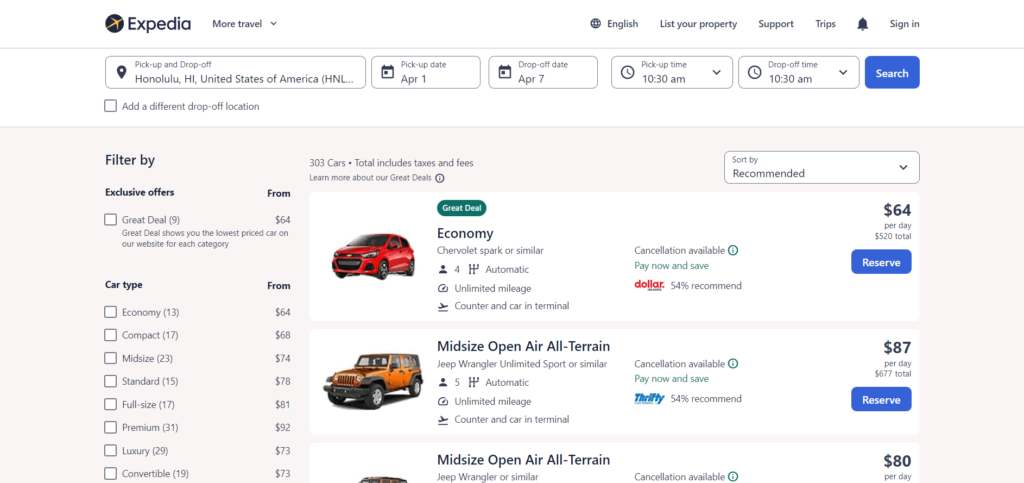 Expedia has a user-friendly interface that displays the comparison of rental cars from all the big players in the industry, making it among the best websites to rent a car. It has fewer filtering and sorting options than Kayak, but they're good enough to quickly find what you're looking for. You can find the cheapest rental cars in each segment using the 'Great Deal' option, which makes it the best search engine if you're looking for the most economical option.
The Expedia Group owns Hotwire, so it's interesting that Expedia sometimes has worse rates than Hotwire. The advantage of using Expedia's flagship site is that it's easier to find fully refundable rates. Cancellation details and user recommendations are displayed upfront along with the final total rate that includes taxes and other fees. Expedia has a free membership program that can help you save 10% or more when you sign up.
Pros:
Easy-to-use interface with adequate filtering options.

Best search engine for

good discounts on bundle bookings.

Has a good loyalty program for savings on frequent bookings.
Cons:
Have to pay in advance for the best price. 'Pay Later' can cost hundreds of dollars more.

Has a reputation for difficult cancellations, especially with bundle offers.
4. Kayak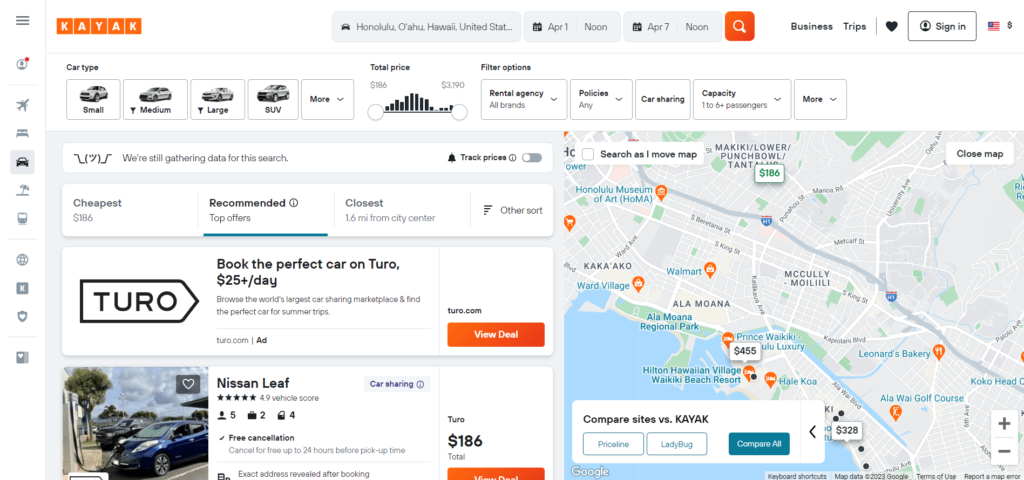 Kayak is one of the best metasearch engines for rental cars that rounds up prices for rental cars from different agencies in one screen for easy comparison. There are many filtering and sorting options to narrow down your search results, including your preferred mode of payment, policies like free cancellation, and eco-friendly vehicle options. Kayak also has an in-built comparison tool that aggregates prices of the same rental car being offered on other search engines like Expedia and Priceline, making it one of the best websites to rent a car. If you're not too keen on booking with a particular company, then Kayak also offers options from 'Surprise Agency' which are revealed after you make the booking.
Pros:
Best search engine for

easily filtering and sorting

rental cars

.

Offers a comparison of prices with other search engines.
Cons:
Have to download the mobile app for Mobile Rates, which aren't available on the website.

Direct booking isn't available for every company. You might get redirected to the rental agency's website instead.
5. Priceline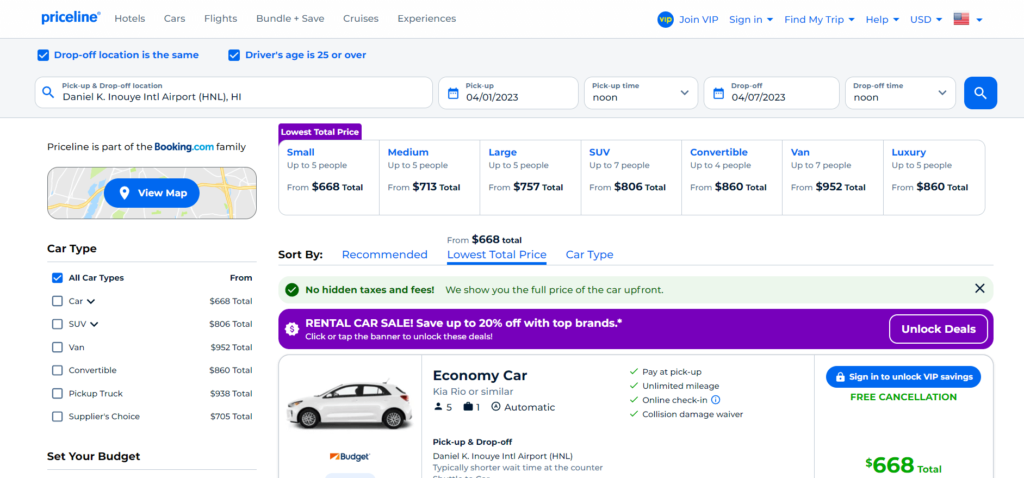 Priceline works on an opaque booking structure similar to the Hot Rates from Hotwire. With their Express Deal, you can save as much as 40% on the final rate but without the freedom to choose the provider, pay later, or cancel the ride after booking. Supplier's Choice is another booking option from Priceline that works contrary to the Express Deal by letting you choose the supplier by foregoing the option to choose the type of vehicle. If you want to book your rental car with hotels and flights, then Priceline is the best search engine because it offers some really enticing bundle offers. They also offer VIP savings if you sign-up first and become a member.
Pros:
You can easily view pick-up and drop-off, payment method, check-in, insurance, customer reviews, and other details.
Cons:
Unlike the other search engines listed in this blog, Priceline only turned up results from a limited number of rental agencies.

No cancellation on express deals.
6. AutoSlash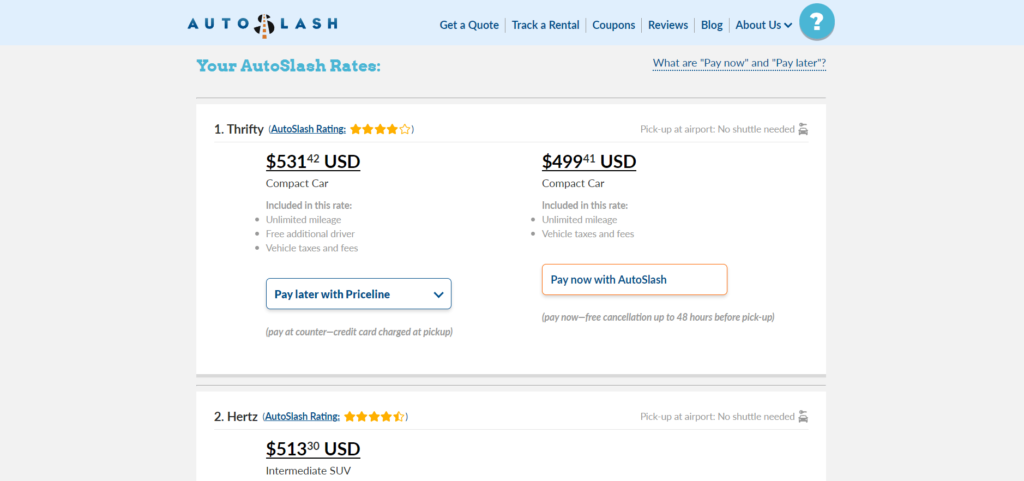 AutoSlash works differently from its competitors with a system of quoted rates, so it doesn't exactly belong in this list of the best search engines for rental cars. But it has a reputation for offering some pretty good discounts, hence we had to include it. To request the quotes, you have to enter your travel dates and pick-up and drop-off location, your preferred vehicle if you don't want the least expensive option, and then details about which credit cards you own and memberships you're a part of. You'll have to give your email address at the end, which might be a few hoops too many if you're just trying to compare prices quickly. But you might find rental cars cheaper than from the best search engines!
Pros:
Best website to rent a car

because it considers your existing memberships and credit card benefits to offer the lowest rates.

Has a section with available discount coupons from different rental agencies.
Cons:
Waiting for the quotes to be emailed to you takes a few minutes, which makes comparing prices a slow and tedious process.
7. Turo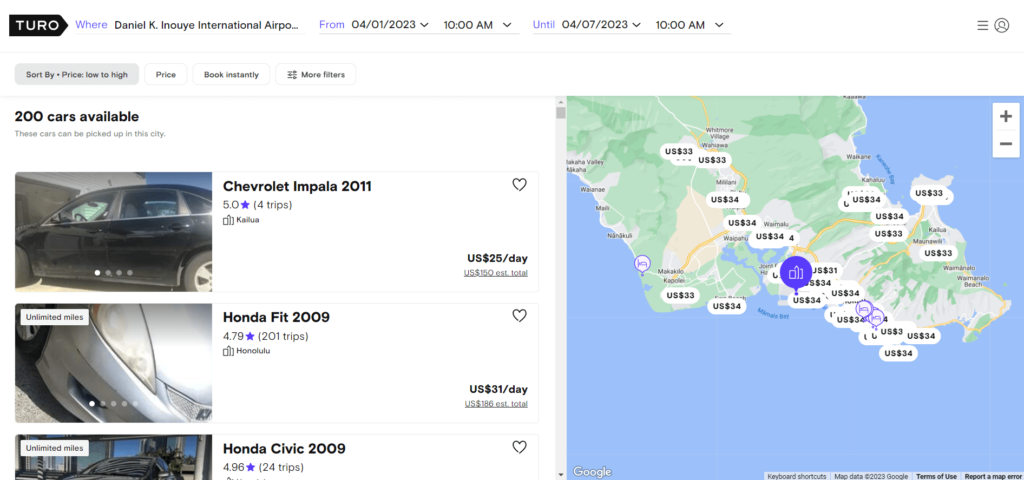 Turo is not your typical search engine. It's a peer-to-peer marketplace where people can put their own cars up for you to rent. There's a good variety of vehicles that you can choose from at low rates. You can even find luxury rental cars up for grabs for a fraction of what you'd pay while renting from a traditional provider, making it one of the best search engines. The prices you'll get here will usually be cheaper than any other search engine, but it has its own fair share of disadvantages that dissuade many travelers from using it. Vetting your host before booking is the most important step while booking on Turo. Despite its challenges, it is a popular search engine used by many experienced travelers for finding a car for cheap.
Pros:
Best search engine for rental cars

at the lowest rates.

You get the exact car you see in the pictures.
Cons:
Your booked car may not be properly maintained.

Customer service may not be up to par.
8. AutoEurope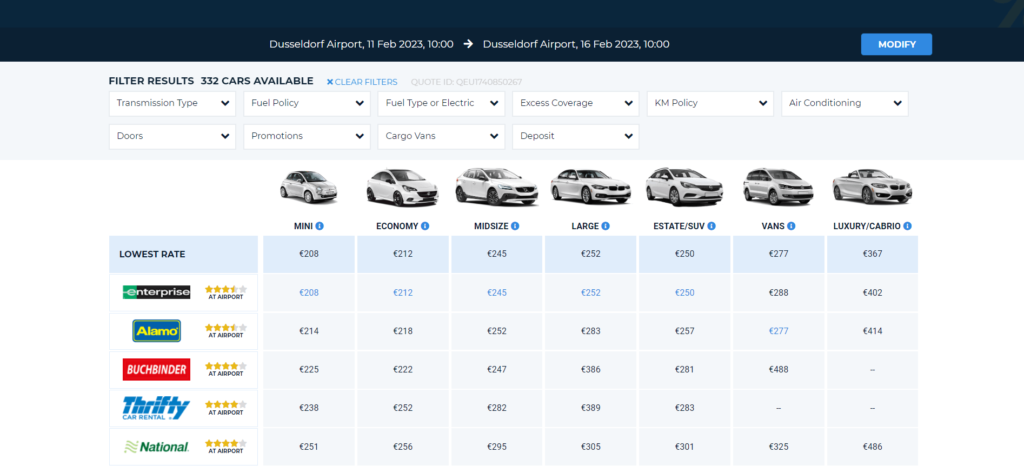 If your travel destination is anywhere on the European continent, then check out AutoEurope before any other search engine for the best deals on rental cars. They have listings for cheap rental cars from other parts of the world as well but the best deals are Europe-specific. The rates are presented in a neat tabular fashion similar to Hotwire with many handy filtering options for quick comparisons of your desired vehicles. Clicking on the price brings up more details about the car, including whether winter tires would be provided or not, which is why it's the best website to rent a car in Europe.
Pros:
Best search engine for

finding cheap

rental cars

in Europe.

Easy format for comparison.
Cons:
Doesn't have good prices for any location other than Europe.
9. CarRentals.com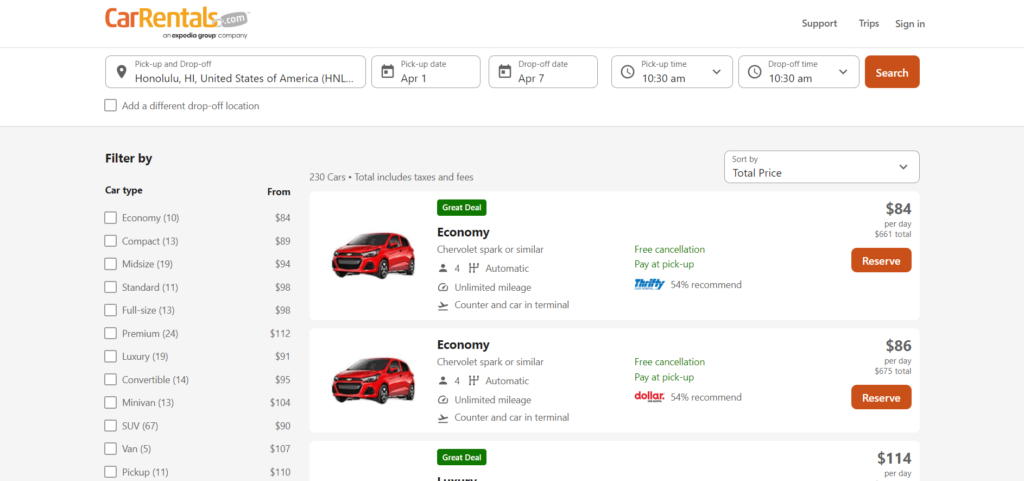 CarRentals.com is one of the best websites to rent a car because it gathers the lowest prices from all the national rental chains which can easily be sorted to find the lowest rates. The filtering capabilities are robust, with the option to filter by car type, capacity, cancellation policy, pick-up preference, and more. Payment, cancellation, and pick-up details are clearly mentioned for easy comparison. You can also sort by customer rating to find rental car agencies with the best customer service on this search engine. Like Priceline's Supplier's Choice, CarRentals.com has a Special booking option that allows you to book from your preferred supplier with the car assigned by them during pick-up. If you create a free membership account on CarRentals.com, you can save 10% or more on your booking.
Pros:
Good selection of cars from different providers.
Cons:
Doesn't have the best discounts when compared to other search engines.
10. Skyscanner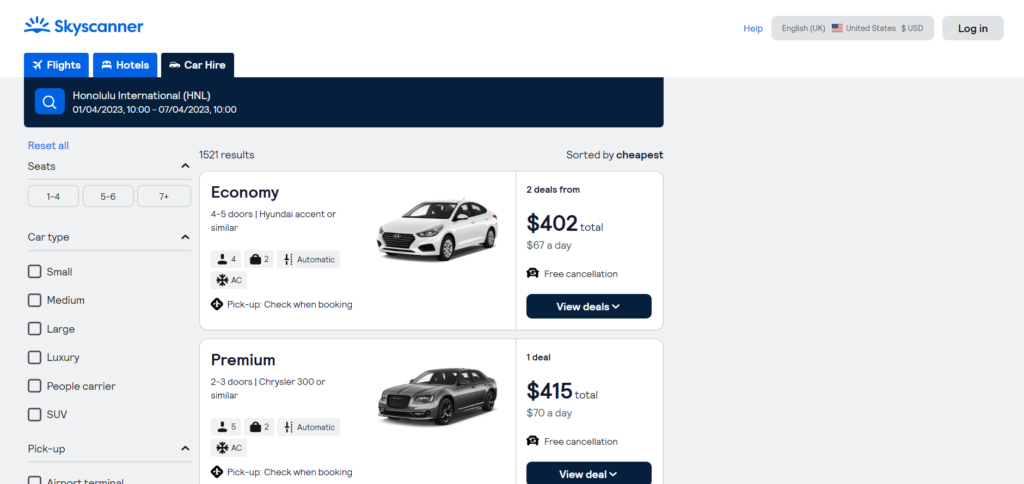 Just like Kayak, Skyscanner is also a metasearch engine that will gather the best deals for you that you can book on the third-party or rental car company's website. It's one of the best websites for booking cheap flight tickets, however, you can also find good deals on cars. The only caveat is that it might prove a little frustrating. If you don't use the filtering options to select a car company, you'll have to click each result one by one and then go to the listed third-party website just to find out the company name. Most other information has to be gathered in a similar fashion, which can be very off-putting.
Pros:
Meta

search engine

that scours many websites at once

for

the

best rental car

deals.
Cons:
The information is difficult to obtain with too many steps.

It doesn't have a membership program.
GoVibe: Best Website to Rent A Car in Hawai'i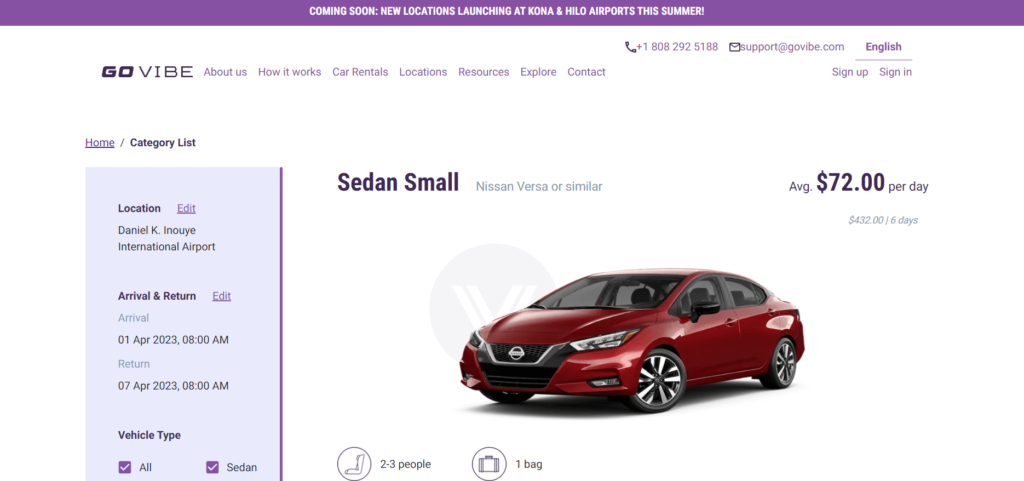 GoVibe is a locally owned and operated company servicing Oahu and the Big Island with only one goal in mind — providing a world-class rental experience at affordable rates. We offer fair rates that are as low as 25% compared to the national rental chains. Booking with us is a simple and quick process that takes only a few minutes. The biggest advantage of renting your car from GoVibe is our valet-like airport pick-up and drop-off service that helps you skip the rental counter and go straight to your car. No need to share shuttles because we'll pick you up from the airport terminal as soon as you land and take you to your car!
Pros:
Hassle-free online booking.

Concierge airport pick-up and drop-off service at no additional charge.

Book now, pay later at the same cost.

Free cancellation until 24 hours from the date of arrival.

Personalized customer service.

Special perks like discount tickets to popular tourist destinations for VIP members.
Cons:
Only available on Oahu and the Big Island of Hawai'i.
Contact us if you have any questions about booking your Hawai'i rental car with GoVibe or compare rates for our vehicles yourself today!