Get 15% off of your car rental when you purchase a Shaka Guide tour! Use promo code SHAKA15 at check-out.
Why Rental Cars Are So Expensive in Hawaiʻi—And What To Do About It
Published on - 2023-02-28
If you're coming to Hawaiʻi from overseas or the continental US, you might expect the airfare to be expensive. But what about rental cars? The way prices have shot up recently, it seems like you will either have to cancel your Hawaiʻi plans or dish out hundreds of dollars more for your stay on the tropical islands.
Thankfully, you have some options.
You might be wondering why rental cars from companies like Hertz and Enterprise are so expensive in Hawaiʻi and whether there is any way around the exorbitant prices. The good news is we've got a promising solution to the constant price hikes.
Why Are Rental Cars So Expensive in Hawaiʻi?
Car rental prices in Hawaiʻi have always been on the higher end for two reasons. One, Hawaiʻi's global popularity as a year-round getaway keeps demand high, and, two, the limited space means rental companies have smaller accessible inventories when compared to other US states. But the prices have gone up exponentially since 2020, and there are many factors driving the surge.
Low Supply of Vehicles Due to Sell-Off
Many major rental companies throughout the US had to sell off large portions of their fleets during the pandemic to cut down on losses from low demand.
The idea was to restock the fleet as soon as the pandemic showed signs of ending, but demand went back up faster than most companies anticipated, leading to a severe shortage of vehicles. Hawaiʻi's remote location makes the problem even more challenging here.
This sell-off is one reason why rental cars from Hertz, Enterprise, and other big companies are so expensive in Hawaiʻi and throughout the US right now.
Shipping Delays and Increased Fuel Prices
Despite the uptick in demand, new vehicle production has slowed due to the limited supply of semiconductor chips. Global shipping delays and supply chain issues have significantly raised car prices, making it more expensive for car rental companies to stock their fleets, and they inevitably pass those costs onto consumers.
Another reason why rental cars are so expensive in Hawaiʻi is fuel prices. Even though you might refill a rental car's tank yourself before returning it, companies still need to move and service large numbers of vehicles. Any increase in their overhead translates into higher prices.
Recovering Worldwide Tourism
Perhaps the biggest compounding factor has been the recent boom in "revenge travel." Airports have higher traffic and more costs than they did a few years ago, and since most rental car chains lease space from airports, all of these expenses pass down the line. This is why rental car companies like Hertz and Enterprise are so expensive in Hawaiʻi right now.
How Do I Find Affordable Rental Cars Hawaiʻi?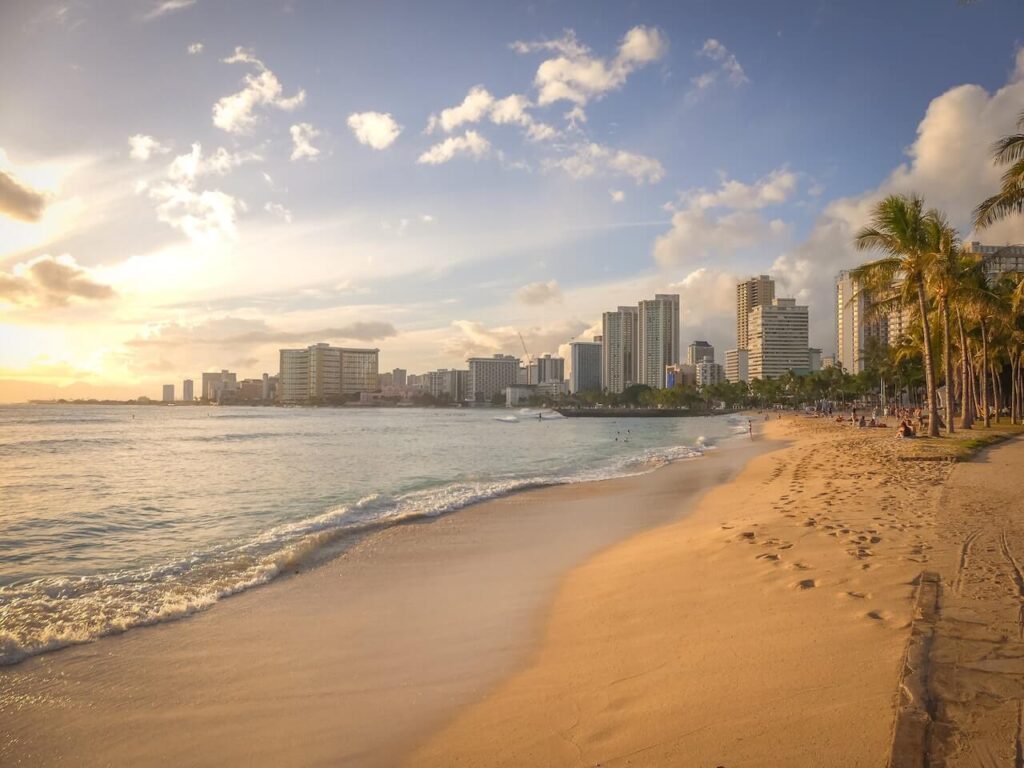 While the spike in rental car prices in Hawaiʻi may seem out of your control, there are a few clever ways you can deal with the current rental car crunch and still save on your upcoming trip.
Choose Local Companies Over Big Airport Chains
If you're wondering why rental cars are so expensive in Hawaiʻi, chances are you're only looking at the prices of big rental companies. Remember, airports pass their costs to rental chains, and these big companies are maintaining massive nationwide inventories. A local company like GoVibe does not lease airport space and does not require the same operating budget. These lower company costs translate into real savings.
For example, we compared the lowest rates for a rental from Hertz, one of the big players in Hawaiʻi, with GoVibe for the same dates and times. We discovered that a small sedan from Hertz is at least 15% more expensive than the same class of vehicle from GoVibe. If you have only looked at the national chains, it's no wonder why you've been finding that rental cars are so expensive in Hawaiʻi!
We searched for a small sedan for one day with a pick-up at Honolulu Airport. Hertz gave the lowest base price of $140.52, but GoVibe showed the same size car for more than 15% less.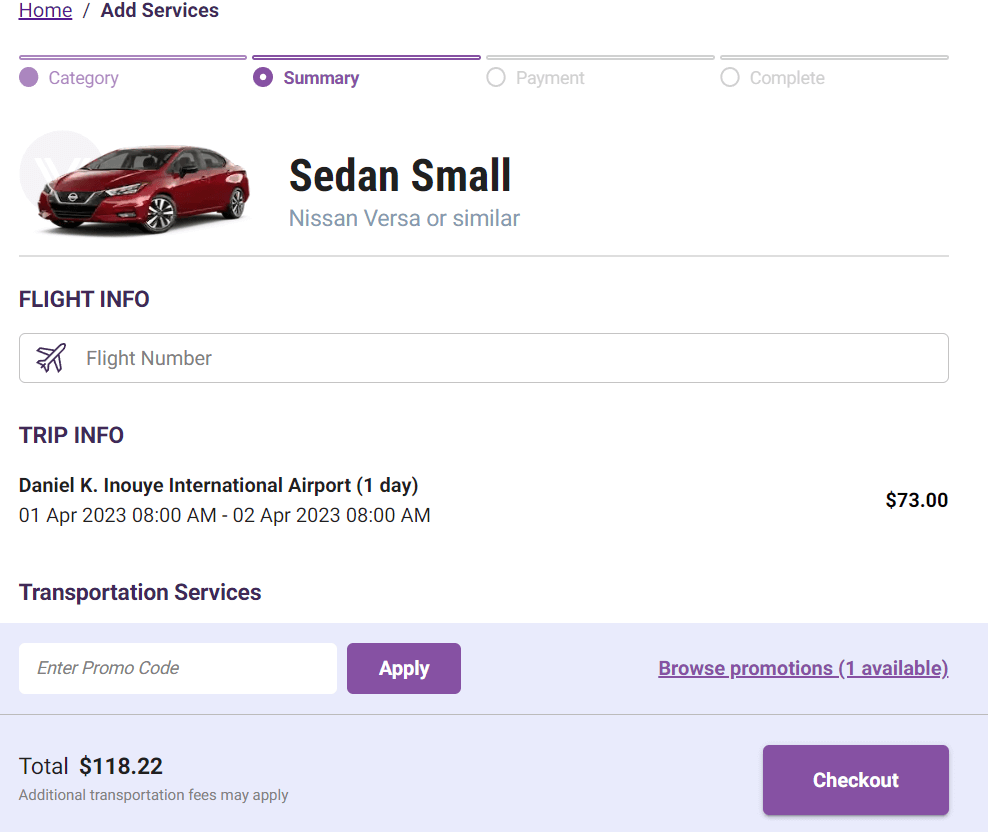 We found that the cheapest rental car from Enterprise, an economy sedan, is listed at a premium of more than 25% of GoVibe's rate.

But what about discounts if you rent for a week? Even when we extended our travel dates to a full week, GoVibe came out on top. In this search example, a week with GoVibe costs $500.42 vs. $670.24 at Hertz vs. an outrageous $856.92 at Enterprise. Even though rental cars are expensive for everyone in Hawaiʻi compared to pre-pandemic travel, the difference here shows why national chains are often pricier than local companies.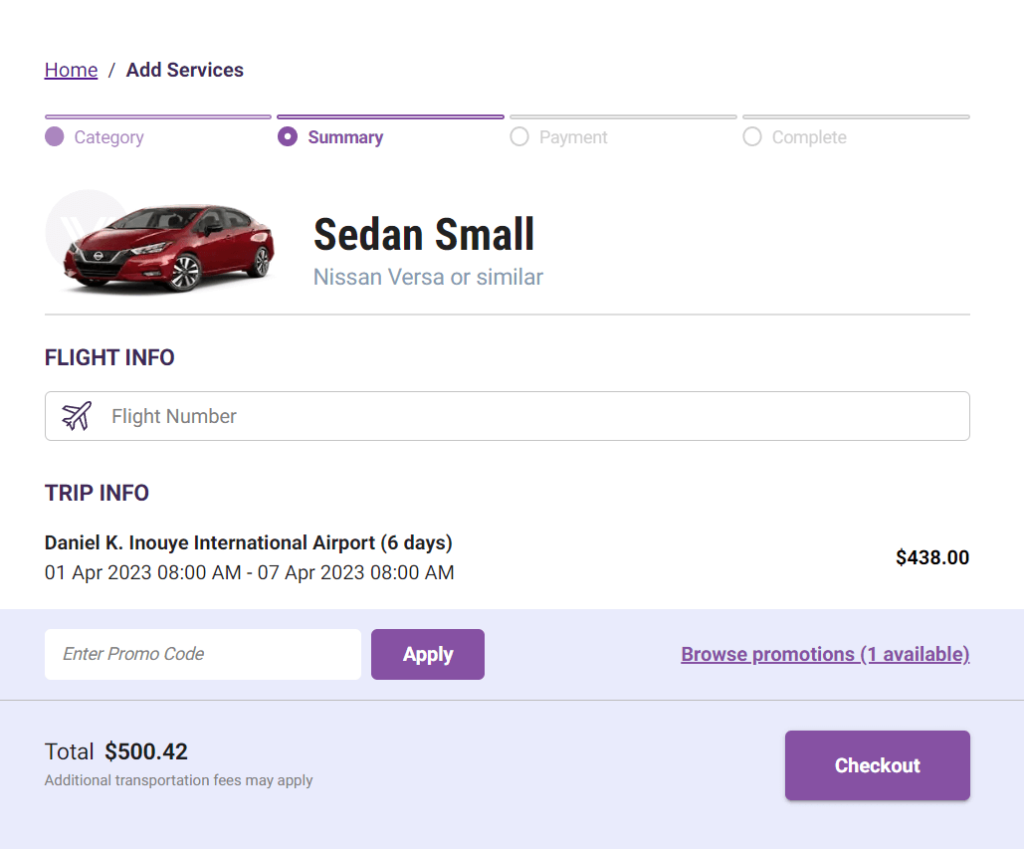 Keep in mind, these are the final checkout prices for each company. Many big rental car companies like to lure you in with unbelievably cheap prices only to surprise you with hidden fees on the final page. So before you hastily book your rental car, make sure you compare prices for different companies offering their services on the island, big or small.
Book as Early as Possible to Avoid Surge Charges
The best time to book your rental car is now. Sometimes you can find a great deal on hotel rooms or airfare by waiting until the last minute, but that strategy rarely works for rental cars.
Many companies use dynamic pricing—also called surge pricing—to inflate rates during peak travel times. If you wait too long, you'll be left wondering why the Hawaiʻi rental cars you had your eyes on from Hertz and Enterprise are suddenly so expensive later on.
At GoVibe, we believe in fair pricing. We offer the same personalized concierge service in every season, and we are not looking to squeeze profit out of visitors to Hawaiʻi. We also do not require you to lock in to a nonrefundable rate. With GoVibe, you can easily cancel your reservation up to 24 hours before you arrive with no strings attached.
Keep an Eye Out for Additional Charges
While you're comparing the rates of rental cars from different companies and wondering why rental cars are so expensive in Hawaiʻi, make sure you're comparing the final prices on the actual checkout page because that's where you'll find the real amount you'll be paying.
GoVibe does add a transportation charge and general excise tax—these are mandatory charges levied by the State of Hawaii. We aim for transparency. If you have any questions about a charge, you can visit our FAQs.
In comparison, national car rental chains might surprise you with airport concession fees, loss damage waivers, liability insurance supplements, personal accident insurance, vehicle licensing fee recovery, and more. This is another reason why rental cars from Hertz and Enterprise are becoming so expensive in Hawaiʻi.
Some of these, such as insurance coverages, are completely voluntary charges but are automatically applied before checkout. Chances are that you already have coverage thanks to your credit card company, so make sure you take a second glance at what you're buying before paying.
Book Only for Days When You Need a Car
Many Hawaiʻi visitors plan to spend at least part of their trips on the beach or at the resort. Especially if you're staying in Waikiki, many places are walkable, and you may not need a car every day of your trip. Many rental companies have no flexibility here. You have to rent a car for a week even if you only plan to drive it for three or four days, which is another reason why rental cars are so expensive in Hawaiʻi.
With GoVibe, you can easily manage your booking to fit your itinerary instead of the other way around. You can request to have your rental car delivered to your hotel exactly when you need it so you're not paying anything extra. It's a hassle-free process that can save you a lot of money on your island adventure. Choose "vehicle delivery" when you reserve your car.
Choose a Smaller Ride
Especially if you're traveling with family, you might have four or five suitcases in tow. If you can manage a tight squeeze from the airport to your hotel, you may not need a minivan or large SUV for the rest of your trip.
Downsizing your rental car is one way to see Oahu on a budget, but keep your eyes open during the booking process. Limited inventory is one of the reasons that rental cars are so expensive in Hawaiʻi, so occasionally you may find that an SUV is priced similarly or even a bit cheaper than a sedan if supply and demand have created an imbalance, especially at companies like Hertz and Enterprise. GoVibe removes the guesswork and offers free cancellation. If you do need to adjust something about your reservation, contact us anytime.
Time Is Money: Skip the Wait
Another thing to keep in mind while you're comparing prices is additional benefits. Does the company you're booking from offer some unique feature that would make it more value for the money?
For example, GoVibe offers an easy way to book and manage your rental car booking with a simple, user-friendly mobile app. Booking your rental car with GoVibe takes only a few minutes, and we meet you at the airport with no hassle and no waiting in line. Spending 30 minutes or more at the airport rental counter may not be worth the headache even if you have a coupon. Convenience is a factor—Hawaiʻi rental cars might be expensive in other ways if you think time is money.
With GoVibe, you will get to the beach faster. You won't have to share an overcrowded shuttle or stand in line at a counter because you'll be picked up from the airport as soon as you land. We keep track of your flight number so we are ready whenever you need us.
What about Membership or Rewards Points?
Membership, points, or frequent flier miles are popular travel hacks to cut costs. Big rental companies like Hertz and Enterprise do have discount programs that keep them from being so expensive, but the terms are often pretty complicated. For example, to join Hertz's President's Circle rewards tier, you have to make 15 rentals or spend $3,000 in a single calendar year. Then you earn points which have to accumulate before you can redeem them for a free rental.
For some business travelers, this might be a good deal, but if you don't travel to Hawaiʻi multiple times per year, this kind of program won't do much to save you from expensive rental cars.
At GoVibe, everyone is a Member with no asterisks, minimums, or complicated fine print. You always get our best deals on vehicles.
Besides making your Hawaiʻi rental car less expensive, another reason why you'll love GoVibe is that all of our vehicles are personally inspected by experienced staff for any faults or issues before we hand over the keys. You don't have to accrue points to be a VIP with GoVibe. Our membership is free.
Luxury Made Affordable
Booking a rental car in Hawaiʻi can be a great experience no matter what is happening in the global economy. GoVibe is on a mission to provide affordable VIP rental service to all. With us, there's no confusion or delays at any point in your rental journey.
Don't let your concerns about why rental cars are so expensive in Hawaiʻi with companies like Hertz and Enterprise put a wrench in your tropical vacation plans. Reserve your car today with GoVibe or contact us if you have any questions. Our staff is always on standby to make your Hawaiʻi vacation as relaxing as it should be.